Version: Atlas V2022.3.0
When you access your Atlas instance, you will automatically be on the Atlas Core element, which contains three tabs: "Atlas", "Licensing", and "Atlas Audit". After these three tabs will be the "Search" report and the current version information for your Atlas Platform. The "Atlas" tab contains the currently-installed Atlas apps' tiles. "Licensing" contains your licensing configuration information. "Atlas Audit" is an internal tracker for recording utilization and changes on the Atlas Platform.
Atlas Tab​
The Atlas Platform's main form of navigation is the Atlas tab. This tab has tiles for each of the Atlas Elements. The tiles each have a brief description of what the element does and, when clicked, opens the associated element. Atlas Core 2.0, included in Atlas Platform Version 3.0, also comes with prebuilt sections to house and organize our apps. The first section, "Atlas Essentials for Splunk", which is shown below, contains the apps that will help admins accomplish most use cases in Splunk.
Following this section are "Atlas Helper Elements" and "Atlas Security Tools", these elements are not present an all Atlas installations, so don't worry if you don't see them in your environment. These apps are designed with specific use cases in mind, like Splunk Migration Helper, which assists admins in migrating and tracking the migration of their Splunk environments. At the bottom of the Core home page, is a section to house custom apps. Atlas admins can also create custom sections and edit the names of the included sections.
You can read more about how to customize your Atlas Home Page here.
Licensing Tab​
The Licensing tab shows you information about your Atlas License. On the left of this tab, you can see the number of days remaining on your license. Clicking the "Edit License" at the bottom of the page will allow you to change the license shown in the textbox. The "Request a Free Trial" button allows you to email our support team to get a temporary Atlas License to try out the software. The right side of the page contains links to our support form and documentation if you need help.
Atlas Audit Tab​
The Atlas Audit tab contains two dashboards. The first dashboard shows a summary of the utilization and changes for each Atlas element. The Time Range in question can be changed with the "Time Range" dropdown in the top left corner.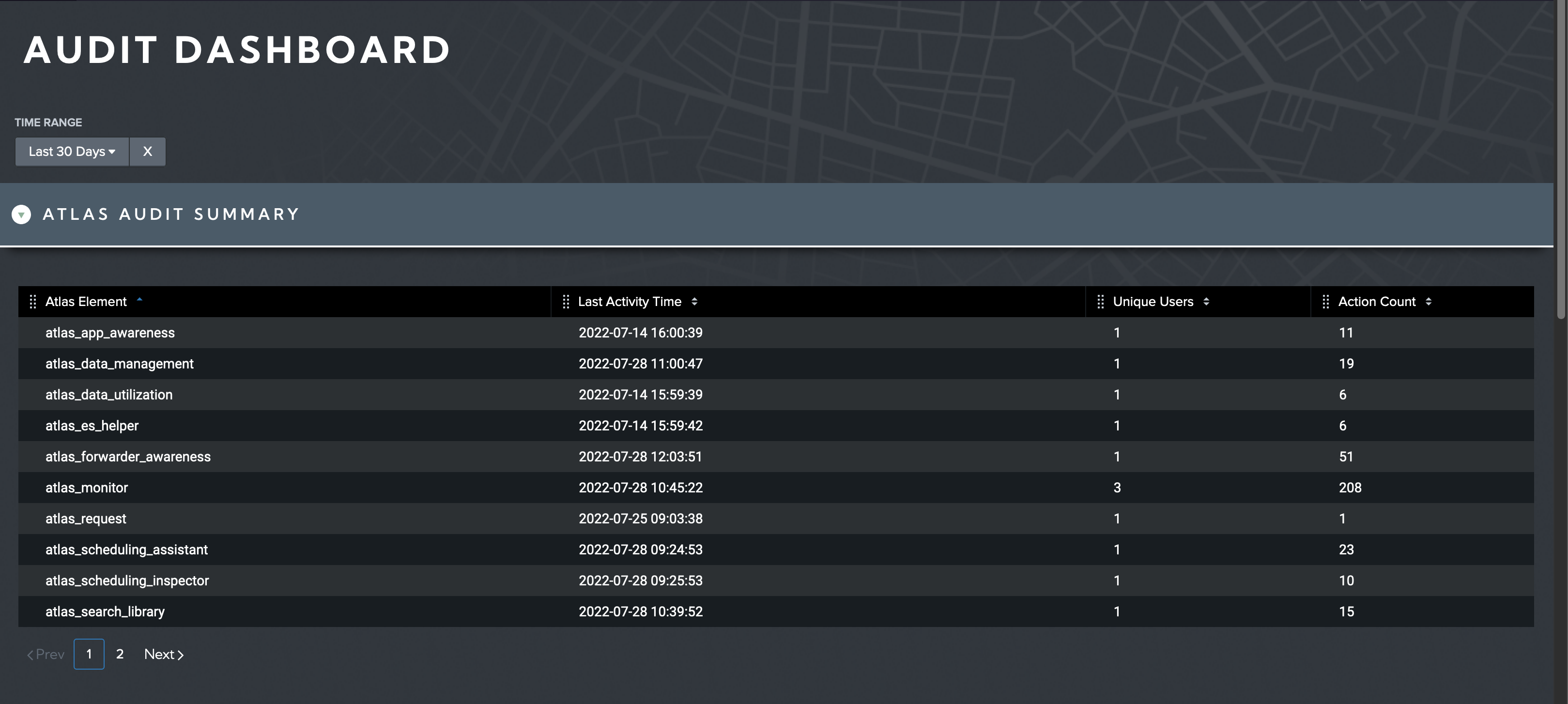 The second dashboard is called Audit Logs. It contains a record of the events shown in the above dashboard. The report can be filtered by app, user, or keyword using the filters at the top of the report. The report can also be exported in .CSV, .XML, or .JSON format by hovering over the table and clicking the "Export" button.