Version: Atlas 2022.3.4

Atlas Core​
Atlas Core is the primary interface into the Atlas platform - the central management console for navigating and managing Atlas. You will use Atlas Core to access all of the Elements contained within the Atlas Platform, and it can also be configured to serve as your "homepage" for Atlas and Splunk. Atlas Core lets you manage Atlas licensing, audit and monitor user activity across Atlas, and it can be configured to customize how your users interact with Splunk. As an Atlas administrator, you can quickly and easily customize your Atlas Home page to be the portal for your entire Splunk implementation.
Atlas Core Capabilities​
Access all Atlas Elements
Manage your Atlas License
Customize your Splunk user's experience by making Atlas your "Splunk home page"
Add your own Company logo to the Atlas home page
View and audit all Atlas user activity
Navigation​
Navigation in Atlas Core is simple - each Atlas Element is represented by a tile. The tile construct makes it easy for users to understand what each Atlas Element is and does before navigating to that Element. You open any Atlas Element by simply clicking the desired tile.
You can return to Atlas Core by clicking the Atlas menu option in the top-left menu bar of any Atlas Element page.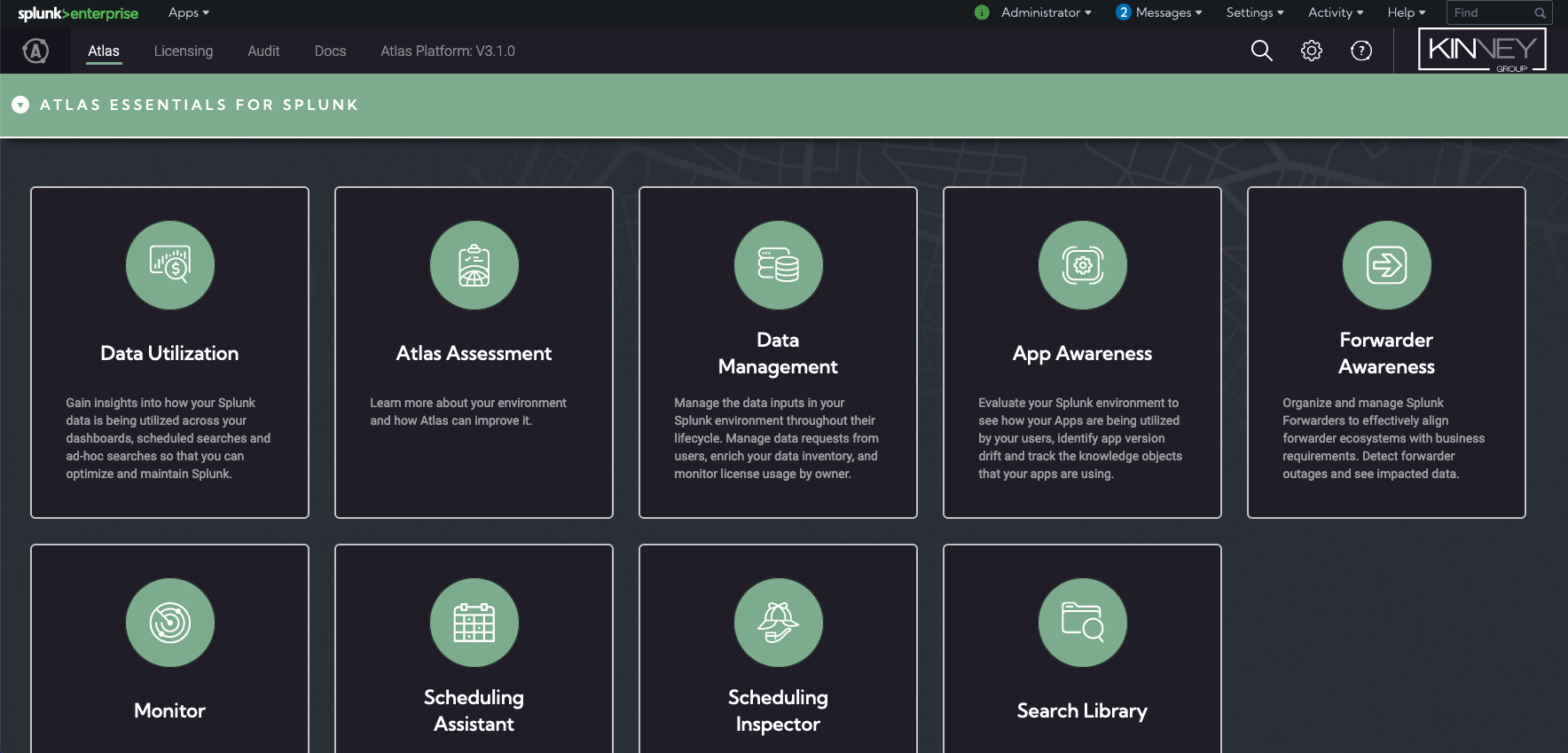 License Management​
The License Management dashboard on Atlas Core serves as the license management interface for Atlas - you can click the Licensing menu option to install your Atlas license key and view the number of days remaining on your license. To learn more about managing your Atlas license see the Install a License Key article on this site.

Atlas Audit​
Atlas Core provides the Audit Dashboard, which records the activities that users perform within Atlas. This can be used to monitor how much activity each Atlas Element is getting, and many of the actions that users carry out in each Atlas Element. Some Atlas Elements can modify your Splunk environment; Audit tracks changes made to Splunk from Atlas and shows you exactly what change was made, when, and who made the change.
Access the Audit Dashboard by selecting it on the top navigation bar on Atlas Core. You can filter or search the tracked actions by Atlas Element, user, or by using a wildcard search to search all fields in the time range.